M&J Plumbing
Case Study
M&J Plumbing
Soldotna, Alaska
Father-son team brings hydronic solutions to Alaska commercial and residential applications.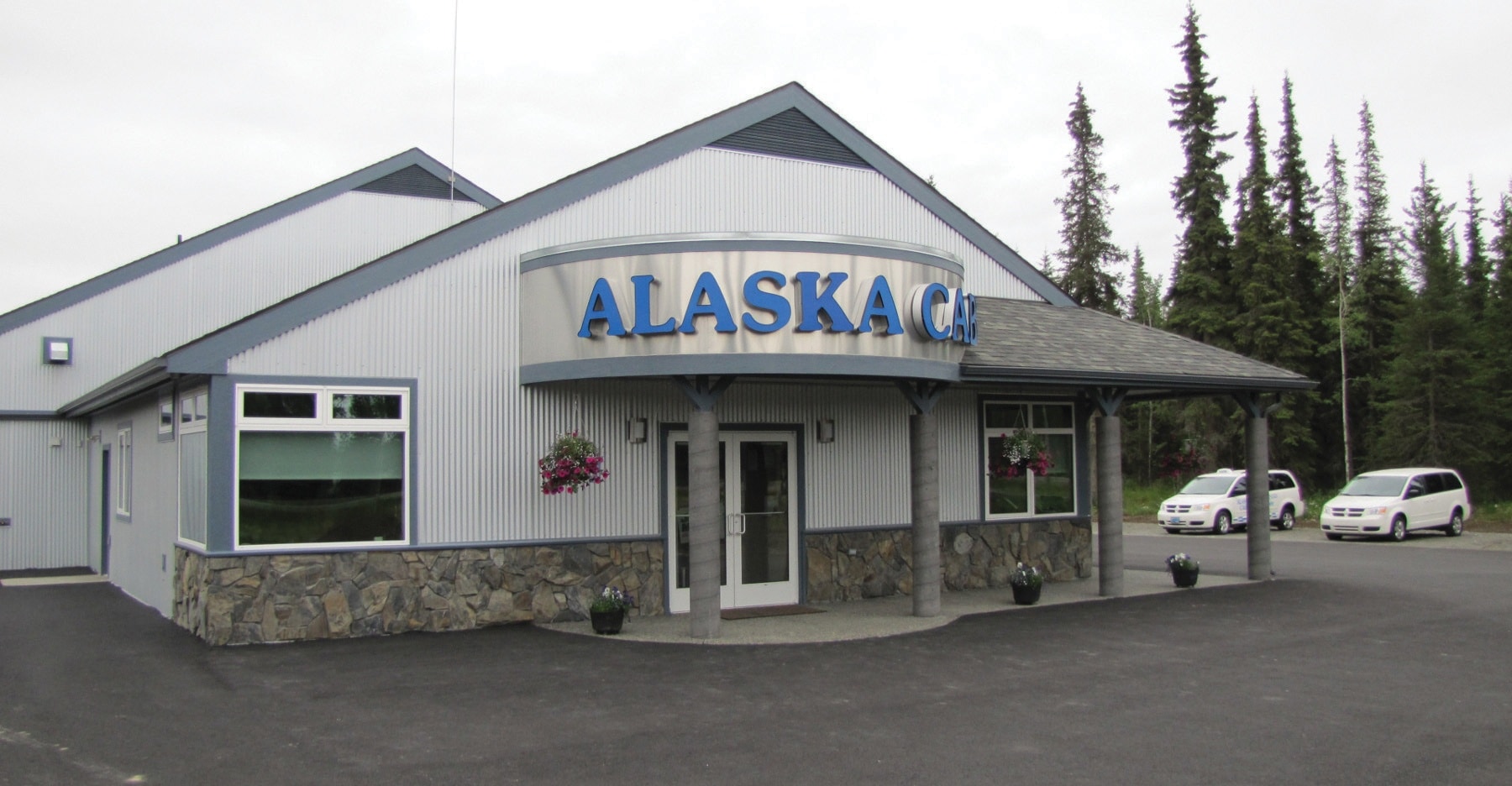 In 1982, Marc Avigo opened the doors to his plumbing and heating firm in Soldotna, AK. Fourteen years later, Marc's son, Jason, joined the firm to create M+J Plumbing and Heating.
Now 30, Jason is vice president of the company, but not the pencil-pushing type. Routinely he's out on installations and service calls with the company's four other technicians. One thing everyone in the firm shares in common: there's no messing around when it comes to putting in a good day's work. High quality workmanship, dedication to craft and efficiency at the job site never take the back seat, and work is always done at a good, steady clip.
"We specialize in mod-con boiler installations and in-floor heat," Jason said. "Whether it's a residential retrofit job, or a light commercial installation, we work fast and effectively. That's why we hit the 100-boiler mark each year with five guys on the job."
M+J serves the Soldotna-Kenai area in the peninsula region south of Anchorage, with a range of services including simple boiler replacement to full heating and plumbing systems for elaborate new homes. They'll throw in a few commercial systems into
the mix each year for good measure. Given their location in the largest state in the nation, it seems fitting that M+J Plumbing and Heating puts more than 30,000 miles on each of their five service vehicles each year.
Radiant heat for $13 a year – Alaska Cab
A few miles down the road from the M+J headquarters is Alaska Cab's new 4,500 square-foot facility, where M+J spent four full days on the job not long ago. Inside are four offices, a reception area, break room, and an oversized three-bay garage, all heated by an in- floor, waste-oil fired mechanical system installed by M+J.
"We run 15 sedans and five wheelchair-accessible vans," said Alaska Cab owner Brent Hibbert. "My son Taylor and I service all the cabs ourselves. Oil from our vehicles and surrounding shops allows us to heat the building for $13 a year."
The shop's large mechanical room houses a Garnes waste-oil burning boiler, indirect water heater, and a host of circulators and radiant manifolds.
"The boiler uses about 2,000 gallons of oil in a heating season to heat the entire facility. It runs non-stop from September through early May," Hibbert said. "I'd planned to burn waste oil years before building this shop, so I never figured out exactly how much it would cost to heat with gas for space heat and domestic water. But we calculated it recently at around $600 a month. Conservatively, we're saving $5,400 a year to heat the place and to provide hot water."
To make room for the two vehicle lifts, the garage ceilings had to be high. Coupled with the large bay doors, the heat load for the building is substantial, though with radiant heat there's very little stratification, and also quick recovery when the big bay doors open.
"I keep the shop and break room at 64 degrees. But the ladies in the office like it at 70," Hibbert said. The radiant- heated slab was by far the best heating option for the shop. Unlike a forced air system, the thermal mass of the shop's floor and its 6,500 square feet of PEX tubing keep all the BTUs from rising to the ceilings.
The fluid for five of the building's six zones are circulated by Taco 008 three-speed pumps. Taco 0011's are used to pressurize the domestic water lines, and the largest hydronic zone.
Traditional residential work
Homeowner Brad Hibberd lives on the other side of Soldotna. His new, 2,900 square-foot home also incorporates a hydronic heating system, along with some of the bells and whistles that help make life on the Last Frontier more comfortable and economical.
The home's hydronic equipment drive a finely-crafted in- floor heating system. The main mechanical area, assembled along one of the garage walls, is also home to Brad's meticulously restored Oldsmobile 442, looking like a beast at rest just six feet from the boiler. "That was my very first car," said Hibberd. "But my brother wrecked it shortly after I bought it. I've taken better care of it since then. Now it's as good as new."
Also drawing heat from the modulating-condensing boiler is a 56-gallon indirect water heater and snowmelt system. The domestic water system is equipped with a hot water recirculation system.
The concrete front walk was poured over PEX tubing, providing a slip-free surface during the winter months. "Since the area was so small," Jason said, "I simply used a Taco X-Pump block to circulate glycol to the snow melt system. The heat exchanger easily handles the call for BTUs. ""It's an off-the-shelf solution for exchanging heat while separating source heat—in this case, water—from the snow melt's glycol mix."
Luxury in a big way
Half an hour's ride from the M+J headquarters is one of many beautiful glacier-sculpted lakes in the area. On the bank rests a newly-constructed 10,000 square foot house, complete with a driveway with parking for several RVs and a temperature-con- trolled green-house. Just down from that, a dock lined with small boats and personal watercraft.
Step inside the home and it's apparent that power toys weren't the only purchases where no expense was spared. The open architectural plan avails space for large crowds, while leather furnishings and modern art, tile and stone floors and two kitchens reveal an appetite for many of life's good things.
The plumbing and heating systems are no exception. The home is entirely heated by in-floor radiant. In addition to the home's two powder rooms on the first floor, all four children have their own bathrooms, each complete with jetted tubs. Two more full bath- rooms are found within the home, one of which features a 12-head, walk in shower.
The mechanical room is comparatively small, needing to house manifolds for 14 hydronic zones and associated circulators, the boiler and an 84-gallon indirect fired water heater. Because of the space constraints some of the manifolds were placed on the ceil- ing of the room. "I got a little creative here," Jason said. "I knew it would look different running all that tubing across the ceiling, but it turned out really cool."
"We definitely didn't want to undersize the boiler on this job," Jason said. In addition to the 200,000 BTU heat load, hot tubs, and human carwash in the master bath, the home is host to many long term guests throughout the year."
Another X-Pump Block feeds the front walkway snow melt system, and an SR-501 outdoor reset system is attached to the 289 MBH boiler. A Taco 0011 pump pulls water off the two-inch main to feed the domestic water line.
Most of the hydronic zones are circulated by Taco 007 pumps. The large kitchens, living and dining room areas are connected to 00R's. "I didn't pick the 00R's because I think they look cool," said Jason. "That is, of course, a factor, but in Alaska, where 0 degrees can be balmy, every last possible fail-safe is necessary. The 00R's have three separate motor windings. If I were to get a call at midnight that a zone went cold because of a failed pump, I can just tell the homeowner to walk downstairs and flip the pump to another speed. That will keep the zone from freezing until I can get there in the morning to replace the pump.
Nose to the grindstone pays off
"We like to get the company's families together," Marc said. "The company has a winter bowling league, and two softball teams; a men's team and a co-ed team." Last year our guys were the Kenai Peninsula Softball League champions."
"Bowling in the winter is great," said Jason. "It can be a lit- tle depressing here with only a few hours of light each day, so the bowling league gets us out and about in the evenings." The time spent together outside of work hours keeps the company close-knit.
In November of '09, the M+J family went through a rough patch. Marc was diagnosed with cancer. Thankfully, after sev- eral months of successful radiation treatment, he was able to return to work.
"Dad has always worked, worked, worked," Jason said. "The cancer scare made him stop and look around. He noticed that I didn't do too badly while holding the reins; and that it might be a good opportunity to take some time for himself." This winter, Marc took three months of R&R time in Arizona, while catching some rays on his new Harley Davidson.
Every other year, the father-son duo takes road trips across the lower 48 in late summer. They not only share a passion for sleek, high quality hydronic systems, but also for iron horses.
Two years ago the pair rode through the Southwest. Last year, they flew to Pennsylvania and bought two new bikes, meandering the whole way up the East Coast. Once in Maine, they headed south to Mississippi, banked right and cracked the throttles open, making for Arizona. From there, they caught a plane ticket home just in time for the heating season. They left the bikes at a friend's place for adventures to come.
"The way we see it: we've got some great miles ahead of us and —while we're at it—we also enjoy honing our mechanical craft," Jason said.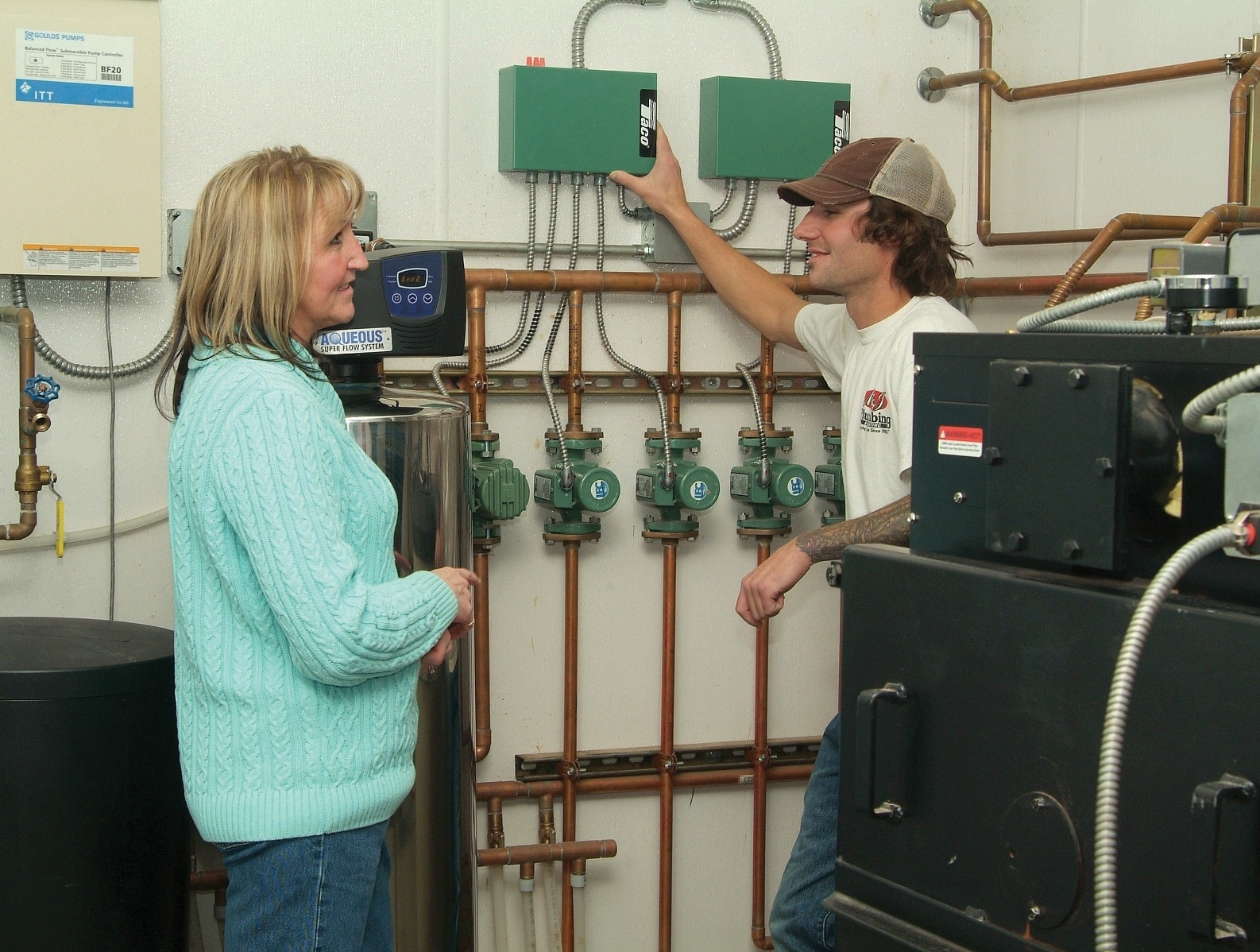 Jason Avigo from M&J Plumbing and Debra Hibbert, Alaska Cab office manager, discuss operation of the waste oil hydronic system that heats their entire facility.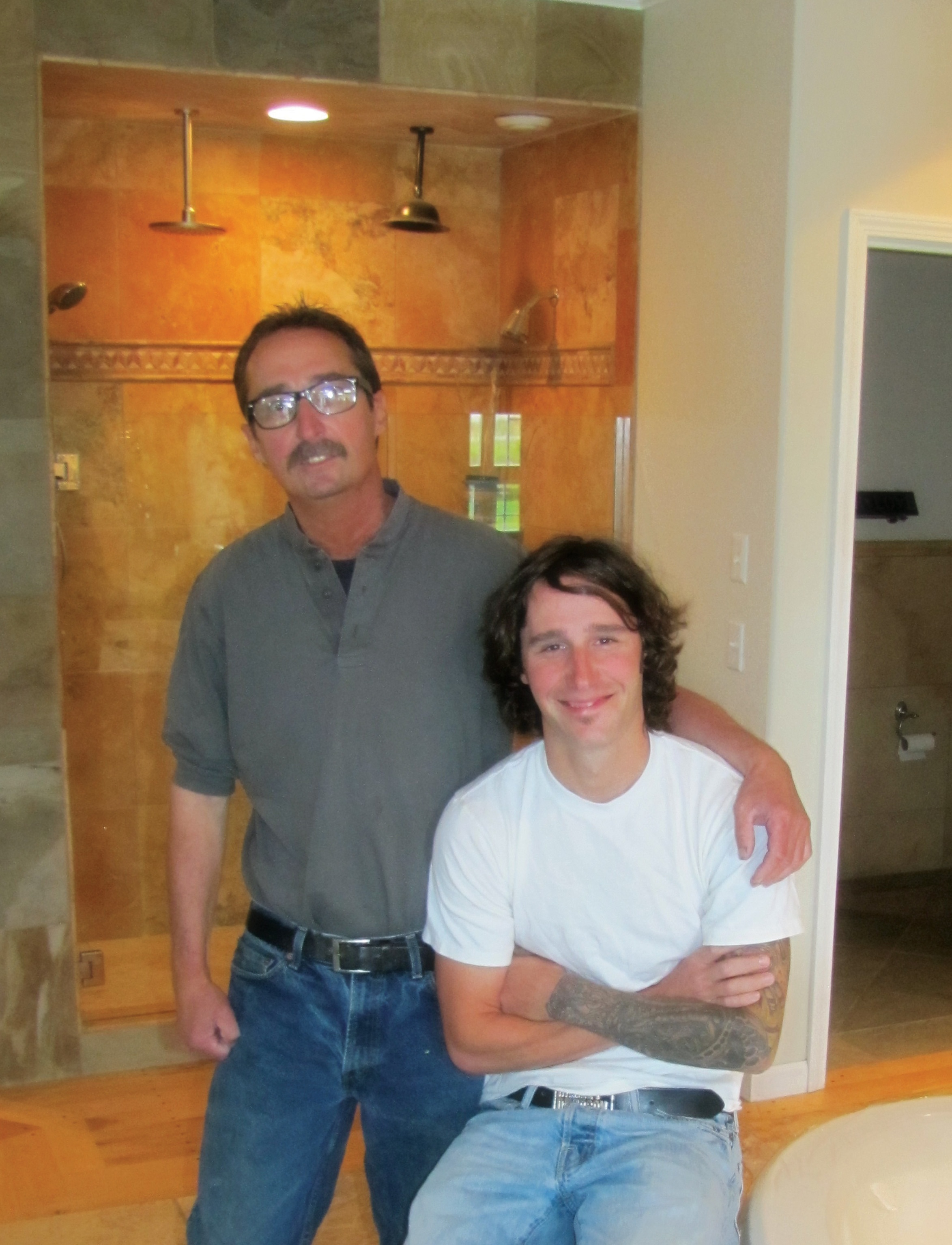 Mark, left, and Jason Avigo from M&J Plumbing in Soldotna, AK