Taco After Dark
Fall 2020 Series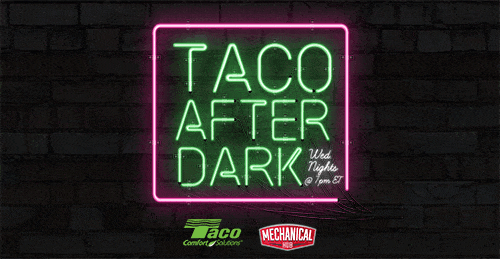 Taco Comfort Solutions, in conjunction with Mechanical-Hub, is thrilled to bring its innovative and popular training series Taco After Dark back for the fall heating season. In the midst of lockdowns, quarantines, and social distancing, Taco would like to help you use this time to sharpen your skills. Together we are offering our full-day residential field training class to you, one hour at a time.
Taco After Dark is an energetic, informative and entertaining 10-week program and features practical, real world solutions to the challenges hydronics professionals face every day. And as the program's name suggests, Taco After Dark is designed for the working man or woman with evening sessions that won't interfere with the demands of heating season.
Taco After Dark sessions run one hour each and will start promptly at 7 PM Eastern time. The program begins Wednesday, September 30th and will run each Wednesday through completion on December 9th.  Your hosts – Taco Trainers Dave Holdorf, Rick Mayo and John Barba – will share with you everything from basic heat loss calculations to advanced boiler piping and circulator selection. The trio will also remain online after the program to answer as many questions about hydronics as the audience wishes.
Attendees may register for each session individually, and each program will be recorded and archived for repeated viewing. Each session qualifies you for one PDH credit. YOU MUST ATTEND THE LIVE WEBINAR SESSION (NOT THE RECORDED SESSION) IN ORDER TO RECEIVE YOUR PDH CERTIFICATE. The link to the PDH certificate, along with a link to the recorded webinar session, will be emailed to you approximately 24 hours after the end of each webinar session.
Individual Class Descriptions and Registration links:
Taco After Dark, Part 3: Pipe Sizing, Air Control and Pumping Away
Join Taco Comfort Solutions for Part 3 of Taco After Dark. Join us as we build on lessons learned in Parts 1 and 2 and discuss how to size boiler piping based on load, how and why different kinds of air separators work, and just what all the fuss is about circulator location and pumping away.
You'll also learn one of the cornerstones of our shared business: The Universal Hydronics Formula. You'll learn how to use this formula to size pipe, size circulators and troubleshoot. It's kind of handy.
You won't want to miss this fast-paced, fact-filled hour of non-stop hydronics.
Taco After Dark, Part 4: Figuring Flow & Head, and the Finer Points of Circulator Selection
Join Taco Comfort Solutions for Part 4 of our ongoing series, Taco After Dark. In our first three segments, we've learned about heat loss, heat emitters, and boiler selection, all building blocks for the next phase of the program. In Part 4, we'll use all that knowledge to take the next step, which is to actually determine flow and head loss and then use that information to make the best circulator selection possible.
You'll also learn where pump performance curves come from, as well as the importance of system curves and how those two little items will determine the overall performance of your hydronics systems.
Make sure to sign up! You won't want to miss this fast-paced, fact-filled hour of wall-to-wall hydronics.
Taco After Dark, Part 5: Zone Pumps, Zone Valves & The Great Debate
Since the first amphibians crawled out of the slime, this debate has been raging: Which is better, zone valves or zone pumps?
In Part 5 of Taco After Dark, we'll examine that question by looking at the pros and cons of each. Whichever way you choose, you'll learn how to make sure you have the right circulator (or circulators) for the job, and we'll start taking a look at the wild and wonderful world of variable speed circulators.
You won't want to miss this fast-paced, fact-filled hour of wall-to-wall hydronics!
Taco After Dark, Part 6 – The TRUTH About Variable Speed Circulators; What They Do and Don't Do
Variable speed circulators are not "magic," and they certainly don't "do the thinking for you." The industry is rife with misconceptions and misinformation about residential variable speed circulators, and it's important for the plumbing and heating professional to know what he's using and why.
In Part 6 of Taco After Dark, presented by Taco Comfort Solutions, Taco's John Barba, Rick Mayo, and Dave Holdorf will dissect today's variable speed ECM circulators, tell you what they do and – more importantly – what they don't do. These little devices have the potential to greatly enhance the overall efficiency of any residential hydronic heating system, but they do need to be installed and programmed properly. In this session, you'll learn what's real, and what isn't.
Taco After Dark, Part 7 – The REAL Value of Variable Speed Circulators
Variable speed circulators aren't magic, they don't size themselves and they don't "do the thinking for you." We learned all that in Taco After Dark, Part 6. But if all that's true – and it is – what is the real value of these little devices?
In Part 7 of Taco After Dark – presented by Taco Comfort Solutions, Taco's Rick Mayo, Dave Holdorf, and John Barba will continue the discussion on ECM and variable speed technology, and show you how variable-speed can benefit your residential hydronic systems…if applied and programmed properly. We'll discuss the different types of variable speed circulators and show you which operating modes make the most sense for which applications, and how the right pump can enhance the overall efficiency of any hydronic system.
You won't want to miss the fast-paced, fact-filled event!
Taco After Dark, Part 8 – Mod-Con Boilers, Buffer Tanks and Zoning
The right approach to piping a multi-zone system with a mod-con boiler can make all the difference. Do it effectively and you have a system that purrs like a kitten and provides your customer with years of optimal efficiency, performance, and comfort. Do it wrong, however, and you may have just planted a time bomb in your customers' basement — and an inefficient one at that.
In Part 8 of Taco After Dark, presented by Taco Comfort Solutions, you'll learn the finer points of piping a mod-con boiler, including when to use a primary-secondary "moose-antler" piping arrangement, when to use a hydraulic separator and when to use a buffer tank (you'll also learn how to size one!).
Join us Wednesday night for another fast-paced, fact-filled episode of Taco After Dark.
Taco After Dark, Part 9 – Mixing Valves, Multi-Temp, Multi-Load Systems and Understanding Indirects
Even if you use a mod-con boiler, there will be instances where you will want to use some sort of mixing device. In Part 9 of Taco After Dark, presented by Taco Comfort Solutions, the boys at Taco will share with you the finer points of tempering valves and motorized mixing valves, including how they work, how they add pressure drop to the system, and how the proper application can help improve overall system efficiency.
The fast-paced, fact-filled, and fun session will also discuss indirect water heaters, what the ratings and specifications mean, and where they come from. You'll also learn how to select the proper pipe size and circulator for the application, how to figure recovery, and how to enhance the performance of a potentially undersized tank.
Taco After Dark, Part 10 – Domestic Hot Water Recirculation Done Right
Did you know the average family of four wastes more than 14,000 gallons of water annually just waiting for the hot water to arrive?
Domestic hot water recirculation is the next great frontier in home comfort. But just like everything else we've discussed in this series, it takes a professional to do it right. In this program, we'll discuss the finer points of DHW recirculation every professional needs to know. You'll learn the right way to properly size your DHW circulator (bigger is NOT better). And you'll learn the pros and cons of various control strategies (smart and simple CAN coexist).
This fast-paced, fact-filled event will show you how easy it can be to do DHW recirculation in a professional way, and how you can provide your customers with convenient, safe, and efficient hot water delivery.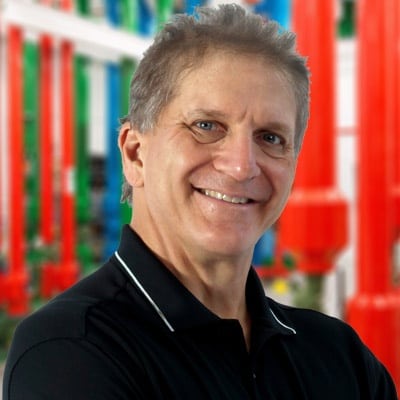 John Barba
Director of Training, Taco Comfort Solutions
John Barba has been in the plumbing heating industry most of his life, growing up in his family's plumbing and heating business in Harvard, MA. John's practical experience includes everything from ditch digging and drain cleaning to boiler piping and PEX slinging, as well as business management and contractor sales. Since 1995, John has trained over 30,000 contractors on the fine art and subtle science of hydronic heating design and installation through highly interactive, entertaining and informative seminars.
John is Director of Training for Taco Comfort Solutions, the leading manufacturer of commercial and residential circulators, controls and accessories for plumbing and heating systems. He is the 2012-2014 recipient of the Carlson-Holohan Industry Award of Excellence, and was recently named the industry's Best Trainer for 2015 by AHRI News Magazine.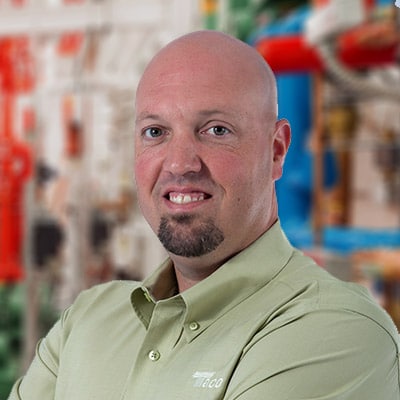 David Holdorf
Residential Trainer, Eastern Region, Taco Comfort Solutions
Mr. Holdorf has been in the hydronic industry for 25 years, specifically in the radiant heating side of the business for the better part of his career. Starting out in the technical support/design role and then took over as Engineering Manager overseeing the Technical Support and Design Department. Later he took a position as a Field Technician; supporting training, designing, installing and troubleshooting.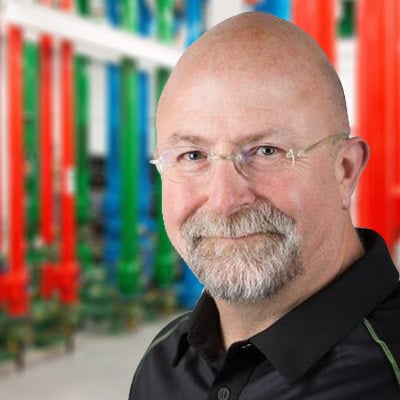 Rick Mayo
Western Product and Application Instructor, Taco Comfort Solutions
Rick started his career in the hydronic heating industry as a plumber in 1977. In 1981, he transitioned into a wholesale role. Over the next 21 years, he worked his way up to a regional heating manager and left to pursue a training/technical support position with Uponor-Wirsbo. Seven years later, Rick took a western regional sales manager/corporate trainer role with Triangle Tube/ACV. Since joining Taco in 2015, Rick has made an impact as the Western Product and Application Instructor through his training that stretches from Alaska to San Diego, as well as four provinces in western Canada.
Webinar Library
Taco After Dark webinar recordings.