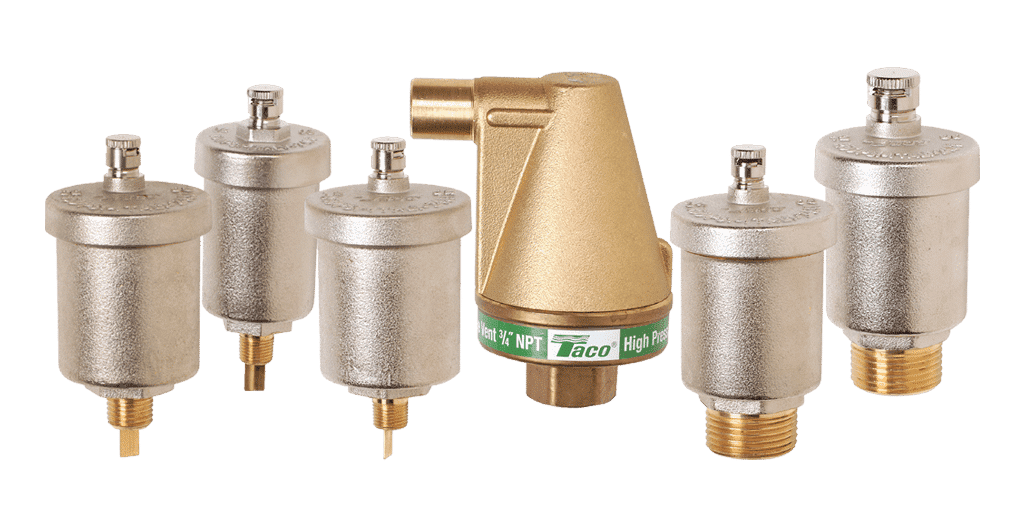 Automatically Purge Unwanted Air from Any Hydronic Installation
HVAC professionals have recognized Taco Automatic Air Vents as the industry standard for more than 30 years. Attached to the boiler or used through the system, Taco Automatic Air Vents automatically purge unwanted air from any hydronic installation, allowing the system to run more efficiently. Taco Automatic Air Vents include:
The Taco Automatic Coin Vent
Installed on water or steam radiators, the Taco Automatic Coin Vent is the ideal air purging device. The Coin Vent features special hygroscopic cellulose discs in the valve body that, when dry, allow air to be released from the system. When air is purged, the discs come into contact with system water, which causes them to swell, creating a positive shut-off. This continuous cycle prevents radiators from becoming air bound and speeds the process of filling the system. Vents also can be manually shut off using an internal ball check.
Taco Hy-Vents®
You already know Taco Hy-Vents® as the industry standard for dependable, long-life service. The high-capacity, float-style vent can be placed either on the boiler or at the high points throughout the system. With threaded connections— 1/8". 1/4", 1/2" and 3/4" —and operating pressure ratings up to 250 psi, these brass-body, nickel-plated vents meet the system requirements of even your largest installations. Vents are easily serviceable, if needed, by simply unscrewing the vent cap. Taco Hy-Vents® are available in a variety of styles including the Slim-Line Hy-Vent and High Pressure Hy-Vent.
Hy-Vent® Service Check Valve
For easy removal of 1/8″ Hy-Vents (models 400 and 416 only). The service check screws onto the Hy-Vent and allows the vent to be replaced without having to drain any fluid from the system.
Hy-Vent® Waste Connector
The Hy-Vent® Waste Connector screws onto the outlet connection of the Hy-Vents models 400, 426, 418, 416) to provide a worry-free installation. The 1/4″ threads easily connect to a waste line, preventing water damage if the vent ever leaks.
The Taco 409 Automatic Air Vent
The high-capacity design and 150-psi system operating pressure rating make this heavy-duty, brass Air Vent ideal for placement throughout commercial systems. Its conical shape significantly increases the clearance between the water level and internal mechanisms, reducing the potential that dirt floating on top of the water can foul the venting operation. Also features a convenient outlet connection for a 3/4" ID flex tube waste connection.
| | | |
| --- | --- | --- |
| Catalog |   |   |
| Instruction Sheet |   |   |
| Submittal Data |   |   |
Find your Taco Sales Representative
Click below to get in touch with your local Taco supplier: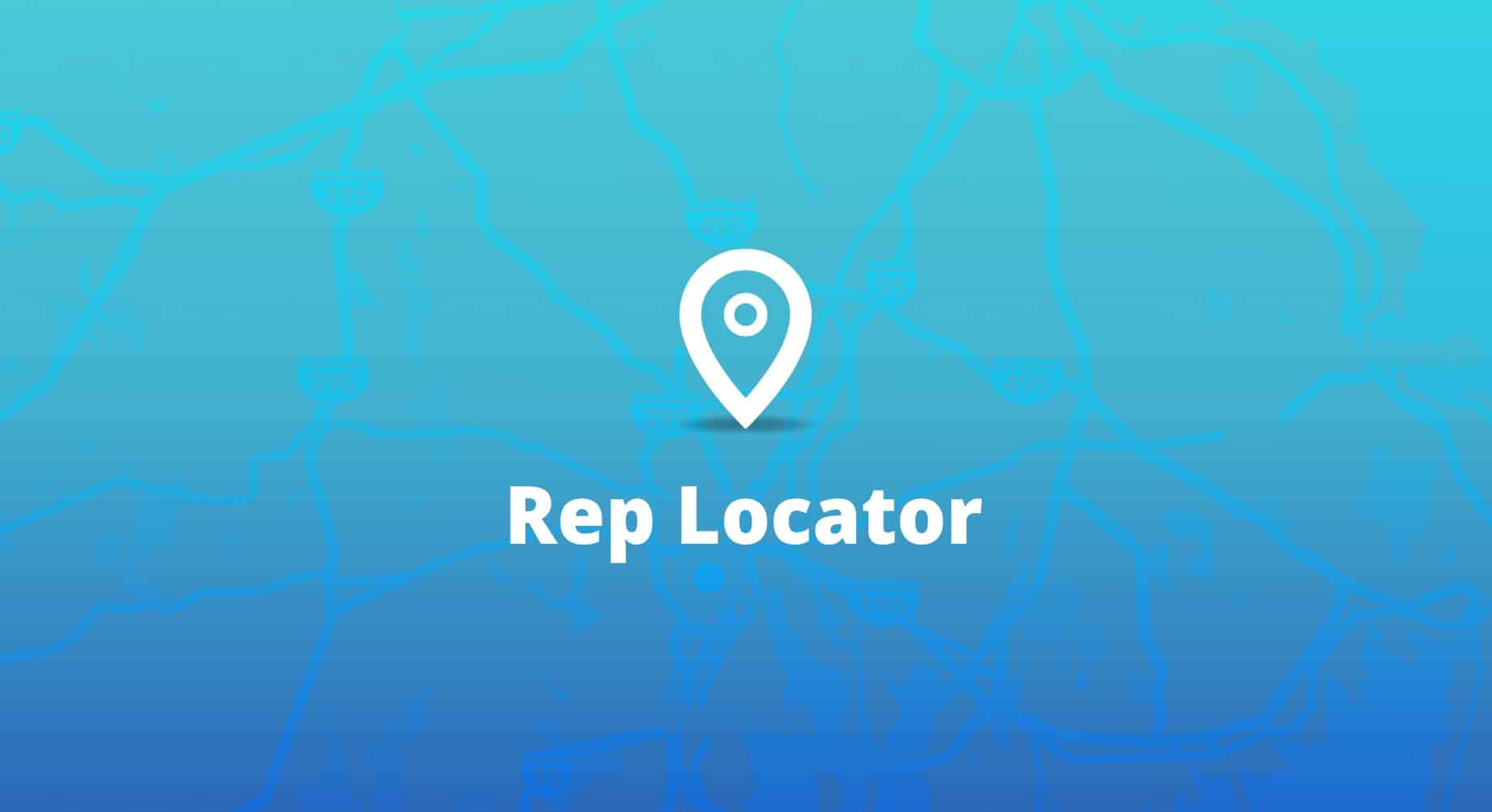 Find a Rep
We're Here to Help
Support is only a click away! Our dedicated customer service and tech support teams are waiting to hear from you.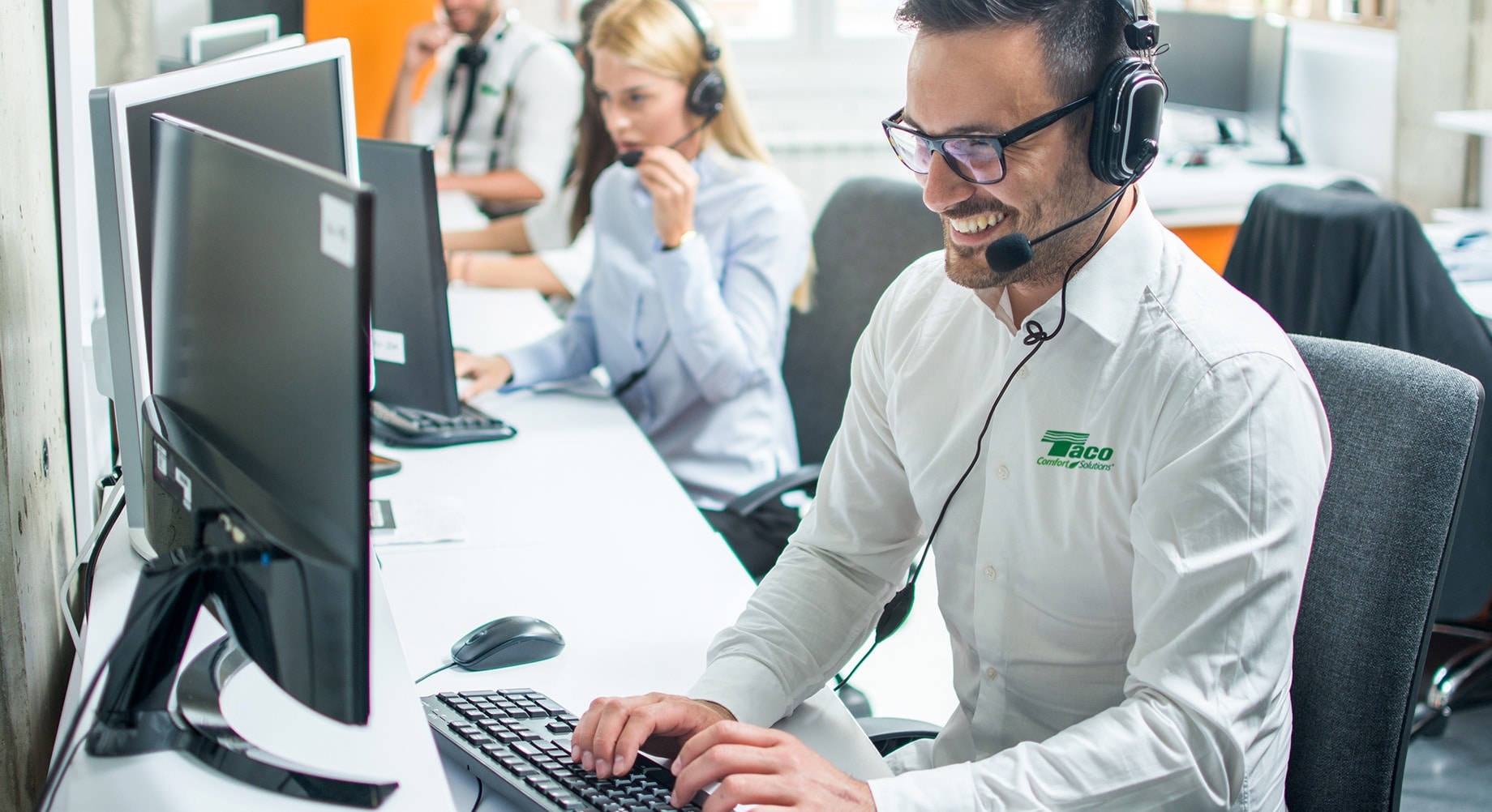 Support
Performance Data
Max. Operating Pressure: 125 – 150 PSI
Max. Operating Temp.: 240°F Max. 
Max. Venting Pressure: 50 – 150 PSI
Media: Water
Features
Automatically purge unwanted air from any hydronic installation
Vent can be closed
Connection Sizes (in): ⅛-¾"
Applications
Hydronic Heating & Cooling