In 2018, Taco Comfort Solutions® is introducing the 1915e light commercial ECM circulator. An integrated variable frequency drive (VFD) powers the 650 watt circulator.
The 1915e is designed for hot or chilled water hydronic applications and is available in a stainless steel model for potable water systems. It's also certified to NSF/ANSI standard 61 & 372 commercial hot. Simple BMS integration is achieved via 0-10v capability. The ECM motor offers up to 85 percent energy savings over a conventional circulator.
Nine different operating modes make the new circulator extremely flexible, including constant speed, constant pressure and proportional pressure modes. It can be easily programmed from the face of the pump. The 1915e fits a wide variety of light commercial applications. The high-efficiency, ECM pump is designed to meet DOE 2022 and Energy Vermont requirements.
The 1915e's two-pump mode makes redundant installations simple. The quiet, compact circulator is vertical mount capable and features condensate drip holes on the volute for chilled water applications.
The 1915e ECM High-Efficiency Circulators is a self-sensing, close coupled, mechanically sealed in-line pump that exceeds industry and efficiency standards with an advanced hydraulic design. It features a high-efficiency volute, ECM motor and integrated frequency drive. Simple yet versatile control options include constant pressure, constant speed, proportional pressure, 0-10Vdc and parallel pump alternation. These standard features combined with the intuitive user interface allow for quick start-ups achieving optimum system efficiency and maximum comfort. The 1915e ECM High-Efficiency Circulators is available in Cast Iron for closed loop hydronic heating and cooling systems or Stainless Steel, NSF Commercial Hot Certified for DHW applications.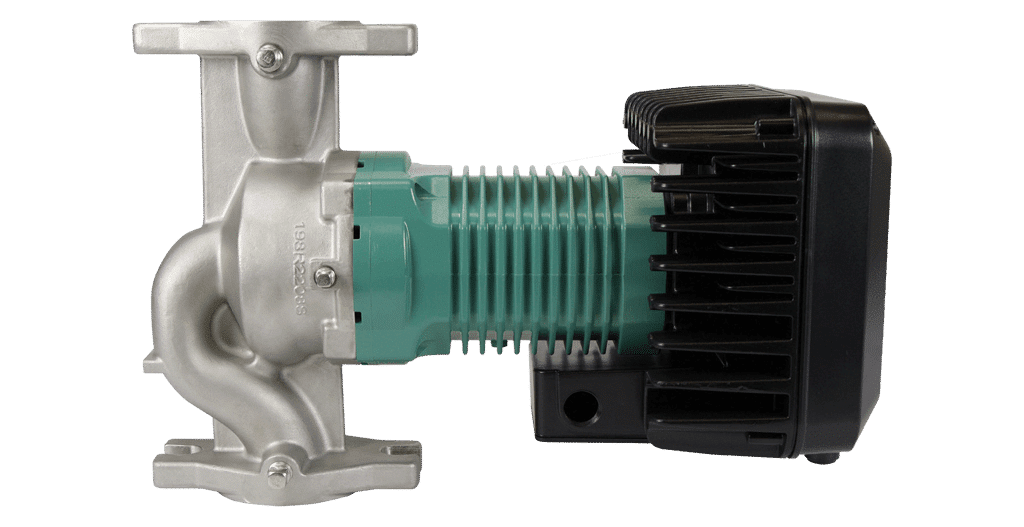 Features:
Brushless, high-efficiency, ECM motor featuring high starting torque and soft start capability.
Easy to program pump interface
Self-sensing
Multiple Operating Modes

4 Constant Pressure
3 Constant Speed
1 Proportional Pressure

LED Status Light
External Inputs/Outputs

0-10Vdc external speed control
Remote enable
Overload relay output
Parallel pump control

High quality mechanical seal