The 006e3 is one of the newest models in Taco Comfort Solutions'® 00e® Series of high-efficiency, ECM-powered circulators. The infinitely-variable, wet-rotor circulator is designed specifically to make installation and operation of domestic hot water recirculation systems easier and more efficient.
With the same quality and reliability that installers have come to expect from Taco's 00e line, the 006e3 has a dial to select from three performance curves to best match the application, and a setting selection guide to make the choice simple. The whisper-quiet, permanent-magnet ECM motor uses up to 85 percent less electricity than conventional pumps of the same size.
Whether used in a new construction hot water recirculation system with dedicated return lines, or in a retrofit application where water is returned via the cold water line, installation of the 006e3 is easy. The pump's compact design is ideal for tight spaces, and multiple connection options are available. The circulator is double-insulated so that a ground wire is not necessary, and a three-color LED indicates status. Taco's SureStart® technology also automatically unblocks and purges air from the line.
The 00e Series® — 006e3® ECM High-Efficiency Hot Water Circulator is an infinitely variable fixed speed, high-efficiency wet rotor circulator with an ECM permanent magnet motor. It is perfect for hot water recirculation and hydronic heating applications. With 3 easy settings, the 006e3® ECM High-Efficiency Hot Water Circulator delivers performance, reliability and ease of installation that made the 00® famous. 
For more information, visit www.TacoComfort.com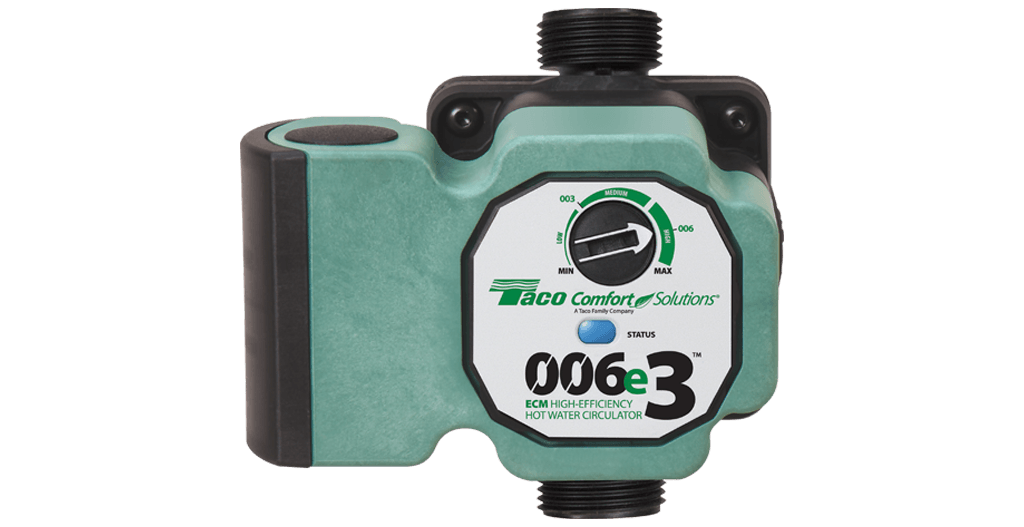 Features:
Infinte Speed Dial Selections
Easy installation:

Compact design for tight spaces

Multiple connection options available

High-efficiency ECM motor uses up to 85% less electricity
SureStart®, a Taco exclusive feature, is your no-callback safety net, automatically purging air and unblocking the pump to keep it trouble-free.
Optional 006e3LC model with pre-wired line cord