Hot-LinkPlus-e™ by Taco Comfort Solutions® offers high-efficiency, intelligent domestic hot water recirculation ideal for retrofit applications. A dedicated return line is not required.
It combines a 006e3™ ECM hot water circulator with Taco's Hot-Link® Valve and Smart Plug Instant Hot Water Control® in one easily-installed package. The Hot-Link Valve, installed at the building's furthest water fixture, sends cooled water back to the water heater so hot water lines remain hot.
The 006e3 circulator that comes in the Hot-LinkPlus-e™ package uses up to 85 percent less electricity than a conventional circulator. It has three performance curves to best match the application, and a setting selection guide to make the choice simple. The Smart Plug learns hot water usage patterns and delivers hot water when it's needed, reducing energy use and extending the life of the water heater.
The entire package is compact, making it ideal for tight spaces. Multiple connection options are available. A temperature sensor is included.
For more information, visit www.TacoComfort.com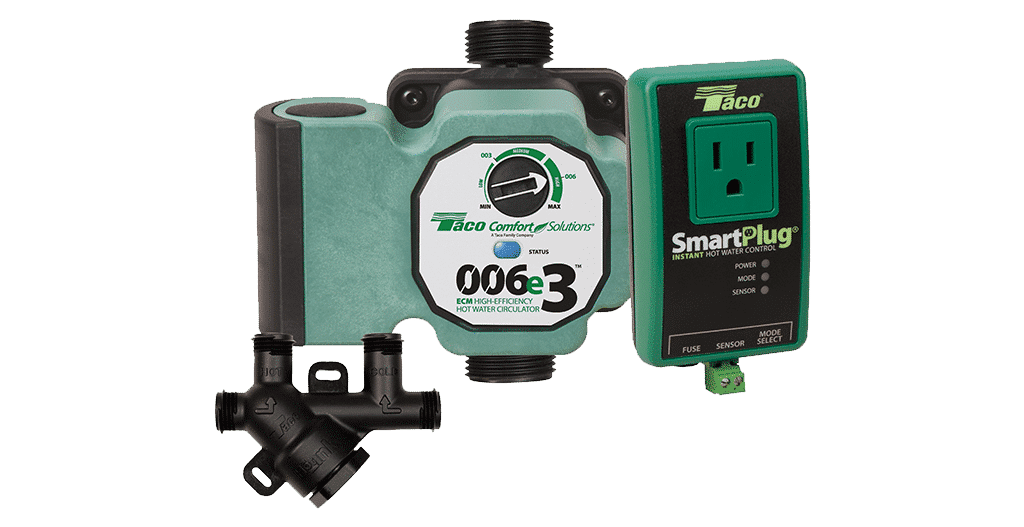 Features:
Easy to use dial: – Low, Medium, High – 003 & 006 performance point references
Easy installation: – Compact design for tight spaces
High-efficiency ECM motor uses up to 85% less electricity
SureStart®, a Taco exclusive feature, is your no-callback safety net. It automatically purges air and unblocks the pump to keep it trouble-free.
Whisper quiet operation
Double Insulated. No ground necessary.
¾" NPT male & female union fitting set included
Includes a 6ft. power cord and flex hoses
SmartPlug Control Options & Features:
"Smart" Mode: When set to "Smart" mode, the SmartPlug monitors and records the home's hot water usage pattern over a 7 day period. The SmartPlug will use the preceding week's usage pattern to automatically cycle the 006e3 ON, so hot water is always available when it's needed. The recording and repeating process is continuous, week after week.
"Pulse" Mode: When set to "Pulse" mode, the SmartPlug will continuously cycle the 006e3 ON for 5 minutes, then OFF for 10 minutes to maintain hot water at all fixtures.
Vacation Mode: After 36 hours of no hot water usage, the SmartPlug will automatically turn the 006e3 OFF and remain off until hot water usage is detected.
Exercise Function: While in vacation mode the SmartPlug will cycle the 006e3 for 10 seconds every 7 days to prevent any corrosion or scale build up.